Next:
The PalmPilot Interface
Up:
A New Affect-Perceiving Interface
Previous:
Abstract
Affective wearables are wearable computers equipped with physiological sensors and pattern recognition that can perceive and respond to the wearer's affective state. These computers are designed to be comfortably worn for long periods of time, and therefore will not require constant interaction with direct input devices such as a screen or a keyboard. Instead of asking us to repeatedly click a button to indicate our preferences through menu selections, the goal of the affective wearable is to ``get to know'' the wearer and their preferences through perception of the user's affective state [PH97]. The affect recognition algorithms and user preference profiles then act as a personal, private, perceptual user interface that can be controlled by the wearer to help manage task load or entertainment.
To learn the user's natural preferences and affective responses, it is necessary that the interface to the wearable computer be unobtrusive so that it does not cause unusual anxiety or social behavior. The natural interaction of the user and their social comfort is of primary concern for this kind of assessment. The loss of affective communication through eye movement, facial gesture, and the social suspicion aroused by an unseen virtual environment make heads up displays (HUDs) unattractive for affective wearables.
Figure: Direct access to the computer has been achieved through a modified PalmPilot interface, shown (left) as a monitor physiological sensors and (right) running the VT100 emulator.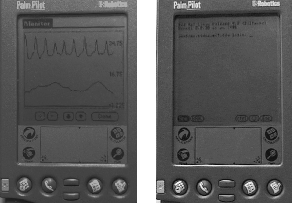 Figure: Using the tablet interface it is clear when the user is attending to the computer and when they are attending to the other person.

We have modified the existing interface to be less socially obtrusive by integrating an adapted form of the PalmPilot. With this pen based tablet interface, the wearer is still free to interact with people using normal facial expressions and gestures as shown in Figure 2. This interface allows the user to have direct access to the computer for note taking, Internet communication, and control over peripheral devices such as digital cameras and physiological sensors (as shown in Figure 1). This direct input-output device is stored in the wearable's satchel most of the time, allowing the person to attend to other tasks and people in social situations, during which time the perceptual interface can continue to operate and try to improve its knowledge of the user's preferences.
---

Next: The PalmPilot Interface Up: A New Affect-Perceiving Interface Previous: Abstract Jennifer Healey - fenn@media.mit.edu
1999-02-12