Directions to the Media Lab
---
MIT Map Server
The Media Lab is located on the eastern side of the MIT campus. The street address is 20 Ames Street.
From WEST CAMPUS:
Enter 77 Massachusetts Avenue (under the small dome) and walk down the infinite corridor. When you emerge from the main buildings you should continue walking east. Eventually you will come to Ames street; the Media Lab is directly in front of you. If you get lost ask people for directions to "the Media Lab" or "East Campus."
From EAST CAMPUS:
You're almost there. Look for the Green building (very tall with a white sphere on top), go there and then walk about 100 yards east. Ask people where the "med center" is if they don't know where the Media Lab is. Keep an eye out for the distinctive appearance of our building: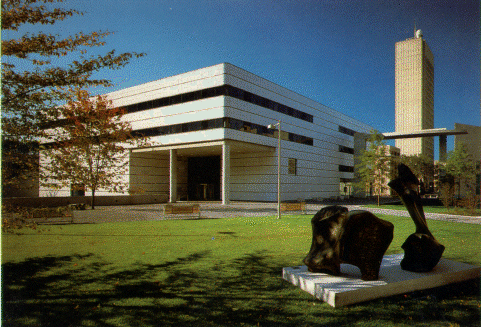 Once you find the Media Lab:
Take the elevator to the third floor. Turn left out of the elevator. Go through the double grey doors. You will be facing the main entrance to Vision and Modeling, room 383.
---

Back up to Directions Menu
---