What's in a Name?
Recently the name of this project changed from IVE to Smart Rooms. This signals a move toward a more holistic approach to modeling the user. hopefully this will lead to more fluid, natural, and useful interfaces.

This projects, like some others, inherits much from the Interactive Video Environments project. ALIVE is the projects that has come to focus primarily in interaction with Artificial Life like Silas: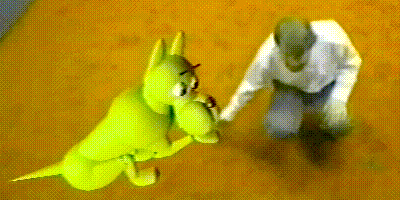 Other instantiations of the IVE interface include an arcade version called SURVIVE (Simulated Urban Recreational Violence I.V.E.) created by Ken Russel and others. SURVIVE provides a much more compelling interface than the standard "bang on the keyboard" approach. We've run an intercontinental version of SURVIVE between two IVE setups: one here at MIT and one across the Atlantic at British Telecom's Research Center in the U.K.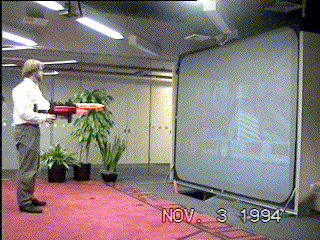 ---

Back up to the Smart Room Page